Testing and Measuring
Three Phase Relay Test Kit (Make: SMC) :-
QUASAR : THREE PHASE RELAY TESTING
Born to be industrial
The Quasar is built for endurance in aggressive work conditions including extreme temperature, dust, and harsh transportation. It is encapsulated in first class protection ABS casing and features integral wheels and extensible handle, which makes it remarkably transportable when added to its compact size and reduced weight. You will save the money and annoyance of adding a bulky transport case.
All the connections are clearly identified on the top surface and you can remove the cover by just sliding it to one side if you wish.
Everything in the Quasar's operation is designed for testing speed, accuracy and efficiency. Collecting a report with the results of your tests will be a matter of making the connections and running the procedures that you have prepared and saved beforehand for each relay type.
The flexible AC input will accommodate virtually any supply with 50 or 60 Hz.
You will find plenty of serviceable parts inside! Actually, the Quasar is made up of plug in modules that are easy to replace, and the software includes a guided calibration process that can be followed by any qualified laboratory. You will never need to return your Quasar for service. Furthermore, it is furnished with upgrade ports for additional test channels and functional enhancements.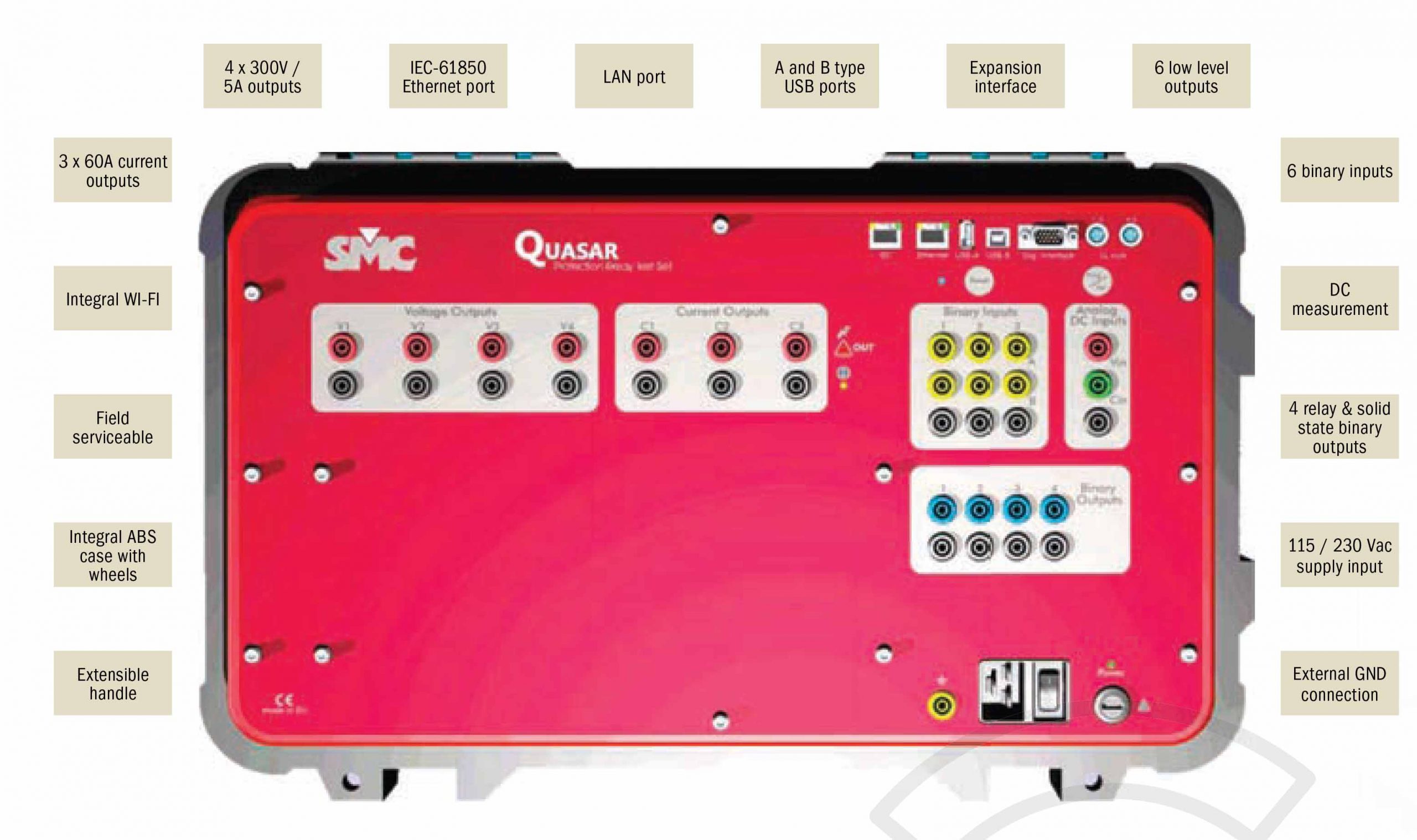 Cloud bound technology
You will update your Quasar app directly from Google's shop into your tablet or Smartphone. We will be maintaining the software for you and will notify you with every update.
The results of your testing can be saved in your device's storage or directly on your favorite cloud-based service, and shared with your colleagues or your clients at your convenience.
You can connect and drive your Quasar via Wi-Fi or using Ethernet wiring if required by your control device.
It had to be small
The Quasar is the smallest and lightest relay tester during transportation because it is built directly inside a PELICASE 1510, which provides unbeatable ABS protection as well as wheels and extensible handle. You can take it with you inside the aircraft's cabin as hand luggage with most airlines