MACHINE DIVISION
GASPARINI-ITALY SHEARING Machine :-
The X-CUT is available in a wide range of models and powers. with a cut thickness up to 30 mm, a length between 1500 and 10000 mm.
With a wide range of accessories (pneumatic sheet metal support, setting of the cut start position, stripe feeder, scrap/ small parts metal box, pneumatic front guard, stand by function, anti scratch device, etc.), with tailor made approach, we always guarantee the best solution for every production need and every set of technical and economical constraints.
BLADE PADS
The best cutting quality in the world: the exclusive Blade Pads system guarantees cutting linearity and accuracy in any conditions and places Gasparini shears et the top of the market. It consists of a series of adjustable pads that force accurate blade positioning every 200 mm throughout the entire length.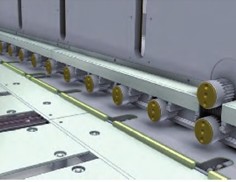 ANTI TORSION DEVICE
No sheet metal twist with the Anti Torsion Device. it consists of a series of hydraulic cylinders fitted below the bottom blade which support the plate against the top blade. This contrasting action is carried out during the cutting phase. The cylinders exert a counter-pressure in proportion to the cut sheet metal thickness. This device can be added also on existing machines of X-CUT series.
HIGH STIFFNESS FRAME
The bolted structure with milled junction designed with Finite Element Analysis gives the X-CUT high stiffness. high stability, less vibrations. high accuracy.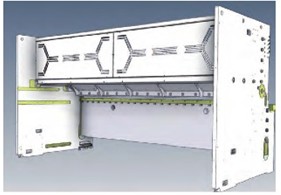 MAIN FEATURES
• Planar upper beam with Ferrozell guides and adjustable pads distributed along the whole length
• Double blade life time with 4 cutting edges suitable also for stainless steel
• Automatic CNC cutting angle adjustment according to cut material
• Automatic CNC controlled blade gap setting according to cut material
• Milled monolithic bench with milled slots to facilitate sheet movement
• Independent hydraulic hold down pressure
• Front supports with upper aluminum profile with encased balls and disappearing gage. measuring rule. brushes
• LED lighting of cutting fine
• Delem DAC 360 CNC with internal material database
• Automatic switch off when not in use