MANUAL SIZE
Lifting and Attachment Tools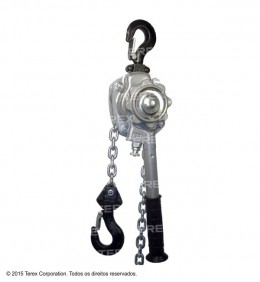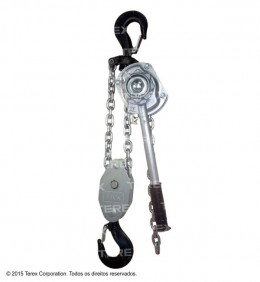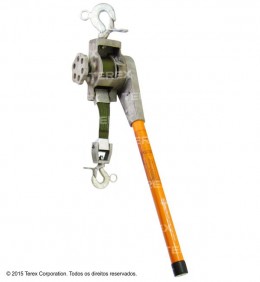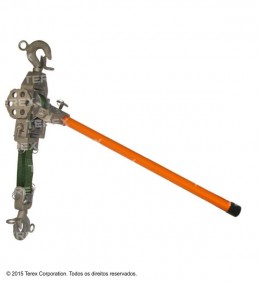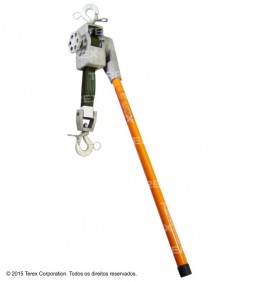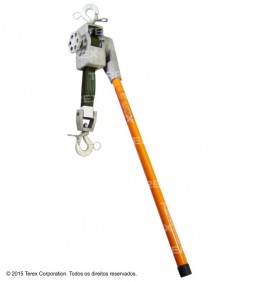 Used in various services of construction and maintenance of electrical installations. It has a device for locking and lowering the load gradually, and can be handled in two positions, to the right or left of the axis of application of the load.
Nylon Studs
---
One and two tonne hoists are supplied with plastic terminal at the end for manual working by the method to the contact. Your nylon rods can be purchased as spare parts.
WARNING
Nylon risers are not considered insulation tools for working in energized installations; In this case, your nylon tie rod should be complemented with an insulation stick for hoists and blocks, compatible with the safety distance table.
SHOT WITH NALON SHOOTER

| | | |
| --- | --- | --- |
| Catalog Reference | description | Weight Approx.(kg) |
|  RC309-0323 | Nylon rod carriage (1 ton) with drive handle with plastic terminal | 6.30 |
|  RC312-0000 | Casing with nylon rod (2 ton) with drive handle with plastic terminal | 7.80 |
|  RC309-0451 | Nylon riser with drive handle with plastic terminal | 5.30 |
CHARACTERISTICS OF LOAD CONVERSIBILITY
Converts with nylon convertible rods allow the conversion of the working load capacity to 0.75 ton. or 1.5 tons, simply make the arrangement on the nylon rods, as follows:
To use the 0.75 tonne load capacity, attach the load hook sheave to the free end loop of the tie rod.
To convert the load capacity of the 0.75 ton hoist. to 1.5 ton, keep the load hook sheave installed in the middle of the nylon tie rod when it is folded, and with the end of the tie rod attached to the hoop body.
Distance Between Hooks
Arrangement for
0.75 ton.
Arrangement for
1.5 ton.
Minimum
546 mm
546 mm
Maximum
2740 mm
1370 mm
Chain Hoist
---
Lightweight and fast to operate, it has features that give the operator greater productivity to work in tight spaces because their drive handle operates on all sides of the load.
For easier coupling and load alignment, it has forged steel hooks with safety lock and 360 ° swivel.
For safety reasons, chains are released for free-form movement only when there is no load.
The hoists have two control levers, the first to change the direction of the movements, and the second to activate the safety lock of the movements.
Control levers are easy to operate, even with the use of gloves.
MANUAL SHAFT WITH CURRENT STRIP

| | | |
| --- | --- | --- |
| Catalog Reference | Nominal Working Capacity (ton.) | Weight Approx.(kg) |
|  750E | 0.75 | 7.30 |
|  1500E | 1.50 | 11.50 |
|  3000E | 3.00 | 17.00 |